7.- 9.6.2019 – WORLD CUP & CONTEST Eurotour.
Registration Opening from 1.4.2019 on this site
Look at Slovakia F3F OPEN 2018
Friday 7.9.2018 low conditions, only thermal flying on the northern slope.
On Saturday 8.9.2018 at 14:00 we flew first round with several repairs and interruptions, later conditions 3-7m/s, north wind. We have two rounds, first round divided into 3 groups.
Sunday morning began with wind 4-7m/s, later wind has decreased. We gave another three rounds. We did not finish the last, sixth round, conditions were low.
RESULTS
ROUNDS
ScoresGraphs
Scoring made by F3gear
Slovakia OPEN F3F 2018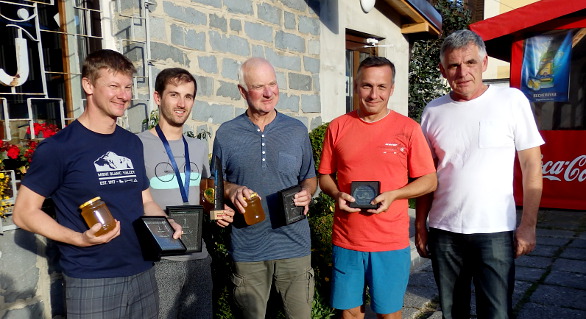 Winners after 5 rouns:
1. Lukas Gaubatz (AUT)
2. Radovan Plch (CZE)
3. Franz Prasch (AUT)
Best time: Miro Trsek (CZE) 42.29s
Slovakia F3F OPEN 2008 – 2018 Winners

2018
Winners
1. Lukas Gaubatz (AUT)
2. Radovan Plch (CZE)
3. Franz Prasch (AUT)
Best time: Miro Trsek (CZE) 42.29s
RESULTS

FOTO #1
FOTO #2
2017
Winners
1. Philipp Starý (AUT)
2. Radovan Plch (CZE)
3. Martin Ziegler (AUT)
Best time:
Franz Prasch (AUT) 33.46s
RESULTS

FOTO #1
FOTO #2
FOTO #3
2015
Winners
1. Vladimír Šimo (SVK)
2. Tomáš Winkler (CZE)
3. Marián Maslo (SVK)
RESULTS

FOTO(46)
FOTO(360)
2013
Winners
1. Radek Plch (CZE)
2. Frédéric Hours (FRA)
3. Jaroslav Vojta (CZE)
RESULTS

FOTO
2012
Winners
1. David Starý (A)
2. Stefan Hölbfer (A))
3. Philipp Starý (A)
RESULTS

FOTO
2011
Winners
1. Stefan Hölbfer (A)
2. Lukas Gaubatz (A)
3. Martin Ziegler (A)
RESULTS

FOTO
2010
Winners
1. Stefan Hölbfer (A)
2. Martin Ziegler (A)
3. Siegfried Schedel (D)
RESULTS

FOTO
2009
Winners
1. Radovan Plch (CZ)
2. Václav Vojtíšek (CZ)
3. Franz Prasch (A)
Mr.Speedy:
Arthur Frenslich(A)
RESULTS

FOTO
2008
Winners
1. Václav Vojtíšek (CZ)
2. Radovan Plch (CZ)
3. Marian Maslo (SK)
RESULTS

FOTO

SLOVAKIA F3F OPEN – Best times

Year
Name
Best time [s]
2018
Miro Trsek (CZ)
42,29s
2017
Franz Prasch (AUT)
33.46s
2015
Vlado Šimo (SK)
49,33
2013
Miro Trsek (CZ)
45,1s
2012
Franz Prasch (A)
42,39s
2011
Martin Ziegler(A)
39,73s
2010
František Ruisl (SK)
35,2s
2009
Arthur Frenslich (A)
37,85s
2008
Marian Maslo (SK)
44,8s