In the evening hours of 7 th of September the WCH F3F 2014 has been opened. There are 51 pilots from 17 countries all over the world competing in this contest. After openning ceremony the banquet for participants took place under the Donovaly sky.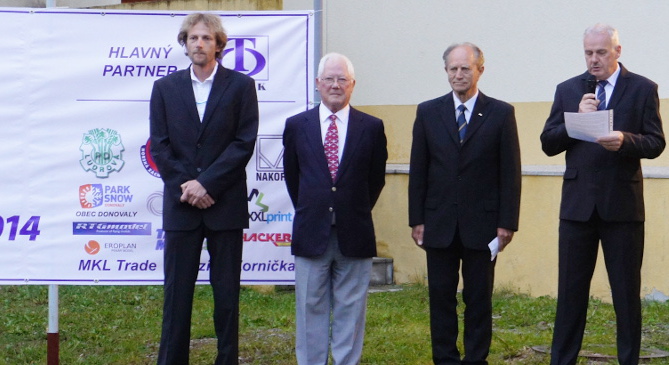 FAI WCH F3F 2014 Slovakia Opening – video – Leung Chi Sang – YouTube (thanks…)
Next day is the first flying day, but the weather forecast doesn't look promising…
The first flying day started with morning fog which gradually disintegrated later on. At about 11 AM, after setting up startplace on the south slope, Slovak junior Majo Mrva flew test flight and that was all for today. We have waited until 2 PM but due to the insufficient wind we didn't even begin to fly. After that the decision was made to call it for today and go down. No wind – no fly.
Second day was a flying day, finally. The weather gets better and from 10 AM till 5:50 PM we flew three complete rounds and two groups from the fourth round. First group of the first round has several reflies due to the low wind but the conditions get better as the time goes on and wind reaches 5-9m/s at the top with some thermals. Later on the wind got weaker to the 3m/s limit and reflies started to appear. Unfortunately some of the models were damaged and sacrified to the Donovaly Cross
RESULTS:
Individual results after 3rd round
National teams after 3rd round
Weather forecast Third day sent us to the nort slope where we build startplace. We had to finish 3rd group of the 4th round. We started with the wind slightly above 3m/s but we didn't managed to finish round as wind stopped. We have waited for longer time for better conditions but they didn't came and we had to scratch incomplete results of 3rd round.
At around 2 PM the decision has been made to move start place back to the south slope as the weather forecast and situation on the sky shows possibility to fly there. After some waiting we have been finaly able to fly 3rd group and successfuly finish 4th round. 5th round started immediately but after approximately 15 flights condition got below required level and together with comming rain clouds we lost hope for better condition for flying on the third day and we had to cancel 5th round after 30 minutes of interruption.
RESULTS:
Individuals_after_4
Teams_after_4
Fourth day is a cloud & haze day in the morning, east wind at about 4m/s. Organisers went to the lift at 10 AM to the top of the hill to check the situation as precise as possible, after 11:15 AM there's rain comming in to the already present clouds and fog – it is clear that there's no flying today. We spent time with chatting and discussion and everybody spend his time as he wishes.
There is a meeting called to 7 PM to discuss newest FAI rule modification as well as proposals and comments for new rules. Head of jury Tomas Bartovsky explained new F3F rules modifications and discussion started. Several proposals have been discussed like French: group score only until 4th round and new formula to be introduced using average time instead of best time, Germans comments was to divide into groups based on the wind speed, US proposal was to use current group scoring everywhere without need to wait for it's applying according to current rules, Spain proposal was to increase number of needed rounds for WCH to be valid to 8 rounds, Slovak proposal was to scratch worst round after each fourth round instead as it's in current rules.
That was all for today, we hope for better conditions for tomorrow. It's already midnight but it is still raining.
Fifth day of competition looks promising, there is 12-18m/s wind on the top of the cable cabin. Cloud base is just above Nova Hola station. We're looking at the option to setup bases on east side of the Nova Hola but later on decision has been made to stay on the south side as according to forecast wind direction should shift more to the south later on. At around 10:15 Lukas Gaubatz made test flight, we're getting wind gusts up to 28m/s but it is shifted to the left side of the slope. We're just about to start fifth round but rain is comming in. At first just minor but getting stronger and stronger. Everybody hides where they could. At 13:00 contest director cancelled flight day and we're heading to cable cabin and down to warm and dry. It was raining till 16:00 and Donovaly are covered in fog.
Sixth day is raining from the morning but the forecast is promising about east wind without rain for some period. We go up the hill at 10:00 to move basis to east slope and setup flying place. Everything is ready for starting 5th round but the visibility is small, hill is often covered with cloud and fog and flying is not possible. During waiting for suitable conditions we're cheering up the competitors of the SPARTAN RACE who are running near by.
Wind is getting weaker, cloudiness is getting bigger and at around 12:00 first group starts to fly with wind speed at around 3-4m/s, unfortunately wind is shifting more to the south. Immediately first flight ends up with refly, then third and so on. Times were high, unworthily World Championship.
After several reflies in 1st group of fifth round it is clear that even enormous effort from organisers it is not possible to complete even one complete round and after short briefing with team managers the contest director ends the flying. The rain is comming and when we arrived at the bottom station of the cable cabin the rain is permanent.
Program of the World Championship continues with closing and award giving ceremony at 19:30 in the outside but due to rain we need improvise and everything is taking place inside of the Zornicka pension.
Results after 4th round becomes final. In our Slovakia F3F team we're very happy, we have World Champion, second place in Teams and second place in juniors !
Final results JUNIORS:Juniors_final
Final results National teams: Teams_final
Final results individuals: Individuals
| | |
| --- | --- |
| Type of Event: | World Championship |
| Event Classification: | 1- st Category Event |
| Date of Event: | September the 7th– 14th2014 |
| Location: | Donovaly, Slovak republic |
| Organizers: |  National Aero Club of Slovak Republic Model Union of Slovak Republic KLM Ruzomberok, RCM Martin |
|  Competition rules: |  The FAI Sporting Code Section 4, Vol. F3F Radio control Soaring Model Aircraft 2013 edition |
|  Flying sites location: |  Touristic region Donovaly, Lesser Fatra, National park area |
Contest management:
Contest director:
Marian Maslo
,                 E_mail:
majo.slovakia@gmail.com
Technical director: Jaroslav Košťan
FAI jury: Tomas Bartovsky(CZE), Sydney Lenssen(GBR), Miroslav Majercik (SVK)


/Slovak version/